Cathy Jarel-Girgis - Acoustic guitar and vocals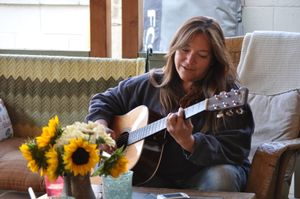 Well Dan Bear and Mike have been bugging me to write up a Bio  for SAGE. I honestly don't know where to begin. Do I start when I was six years old and had received my first guitar from my musical grandparents Ketty and Edwardo Duran? Or that I have always loved singing in front of an audience. Even if I had minus 4 front teeth, in an angel costume with an itchy halo around my head, in front of a standing room only Christmas eve service singing away in the manger. A cappella! I believe there is no certain age to start living your dream. We were all born with gifts to share with the world. All you need is the passion to make them real.I would like to think of myself as an eclectic sort of person.
My choice of hobbies, jobs, collections, interests and music has always been a conundrum to not only myself but my family and friends. You see when I start to list my jobs, I cover a variety of subject matter:I have worked as a singing salad chef (at The Great American Food and Beverage) in Santa Monica and West Wood. A Magicians Assistance ( I would get cut up in a box with knives and come out in one piece) at The Magic Castle in Newport Beach and private parties and conventions. I sanded wooden charter Yachts in the Marina.
I was a Cement Truck Driver, one of two girl drivers in the company (I still carry a commercial drivers license along with a motorcycle license). I was a lingerie model, an aerobics instructor, weight trainer, guitar teacher, pre-school teacher, Musician (in and out of cover bands), was a wandering minstrel for The Renaissance Pleasure Fair in Topanga Canyon of three years playing dulcimer and recorder. I played stand up bass, dulcimer and guitar and vocals for a Blue Grass band where we played not only on street corners but restaurants and Banjo Fiddle Contests in So.Cal.
I was a surf photographer and got published, I create 3d custom sculptured cakes called 'Cathy's Cakes' and have been a kindergarten teacher for many years.Ok, so if your not seeing a pattern with jobs that I've had let me tell you about some of my hobbies and interests: Body Building (B.C.) =Before Children! I placed 4th in The All American Naturals Body Building Competition (when it wasn't so cool for girls to lift weights). Hang Gliding  and Rock Climbing in High School Wilderness Survival, owned and worked on a 1949 restored CJ2A Willys Jeep and loved 4-wheeling  (when there were lots more places to play), Roller Skating, Surfing (That's how I got into Photography as it was warmer to take pics of surfers rather than be in the water).
Got into running,swimming and major cycling and ultimately Triathlons. My Brother and I along with 3 friends trained, got sponsored to go on a 3 month Bicycle trip from LA to Mazatlan via Cabo San Lucas. I love sewing, creating fabric tapestries, making Comic Con Costumes and Halloween Costumes. I love baking and cooking, writing songs, singing in a praise band, singing with SAGE, driving my 1947 Dodge pickup truck (when it runs) around town and entering it in car shows. I'm writing my first children's book ( about my "twin sister" named Maggie) but that's a whole other story!
I love the beach, my family and especially my 3 wonderful children who are all grown and will remain my biggest achievement. I love to collect: Silver bangles, Vintage buttons, pins, snow globes, 1950's red kitchen things, Tea cups, Vintage children's books and toys, Vinyl records and vintage furniture and fabrics. Vintage cars, bikes and things with wheels.Things I don't do: Knit, crochet, sew perfectly squared patchwork quilts, stay in the lines when I color, negativity, follow written directions when I get excited to build or make something, go on carnival rides or elevators, ice skate, technically write or read music, own a snake.
Things I love to do: Laugh, Sing, do stuff or anything with my kids, play music, run in the rain, play board games, chess, make forts, plan adventures, make things, help people and have lots of dogs. Music and things that has fueled my inspiration for writing: Renaissance music, folk, rock, Cuban/Puerto Rican music, Irish folk, Musicals and classical music. My adventures, Friends, dogs, cats and birds, The Beach, God, The children that I have had the honor to teach and the things I have learned from my own 3 children.  
Wonderful musicians I have had the opportunity to play and Jam with, share the stage and record with:   Elmer Hopper (from the Platters and Mills Brothers), Christo Pollani (Air Supply), Dan Brown, Mike Loring, Arron Mc Farland, Eve White, Martin Bennet, Johnathan Nelson (Suicidal Tendencies) Markus Miller (Bassist for Miles Davis), John Otto(Limp Bizkit), Shep Cooke (Stone Ponies), Laurence Jubber (Wings) invited SAGE to share the stage at a Folk Festival to raise money for Hatti tsunami relief where we were able to play with other outstanding folk musicians.
Bands and Musicians I love: Pavarotti, Edie Gorme, Beatles,Simon and Garfunkel, Fleet wood and Mac, CSN and Young! Led Zepplin, Jackson Brown, Frank Sinatra, Beach Boys, Joni Mitchell, Eagles, Judy Collins, Bob Marley, Jimmy Buffet, Peter,Paul and Mary, OK and everyone that played at Woodstock! I would not be able to email this to Dan if I didn't stop here!!I guess to sum up myself: I love being a mom, a wife to my patient, loving partner Ash, a teacher, a musician and a friend.
I love tasting a little bit of everything out of life and I hope that our music says just that.
Mike Loring - Bass, acoustic guitar, and vocals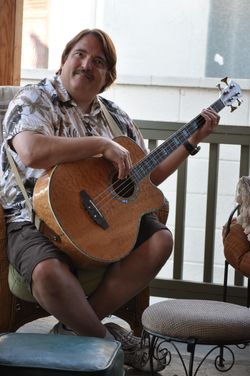 I started playing bass and guitar as a teen, playing in garage and bar bands. After college, life got in the way and I stopped playing for almost 20 years.
I started going to church in the mid 90's at Culver-Palms UMC.  They had a praise band that was really great!  It got me interested in music again and soon I was playing guitar and bass in the band - this is where I met Dan & Cathy who had already formed Sage.  They invited me to play some tracks on their Hopscotch CD and back them on gigs. We've been playing together and having a ton of fun ever since. 
I officially joined Sage in 2012 and couldn't be happier with the style and quality of the music.